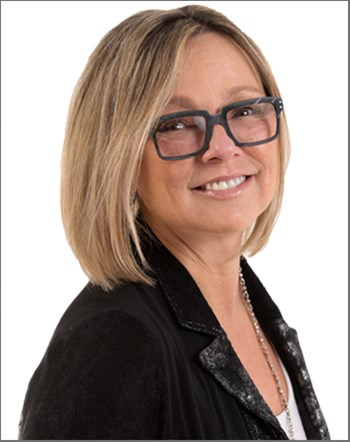 Specialties
Industrial
Scope of Service Experience
With more than 20 years as an administrator and manager at transportation companies, Manon Huppé has vast experience in the sector.
She is familiar with carriers' needs today and appreciates the vital importance of strategic location. Whether your company specializes in moving full or partial loads within Quebec, nationally or around the world, she understands your specific needs and can help you adequately relocate.
Her varied responsibilities have helped her to become a seasoned administrator with a talent for negotiation. Her success is based primarily on her ambitions, enthusiasm, communication skills and personal and professional determination.
In addition to offering you her experience, Manon, also possesses an impressive network of contacts developed over the years.
She decided to join NAI Terramont Commercial as a real estate broker as the company truly reflects her personality. NAI is proactive and offers its brokers solid guidance along with a seasoned team that creates trends rather than follow them.
Education
2015 Generates new customers through the Web and Facebook (ID-3 Technologies) 2015 Environmental liabilities predict what can block or delay sales (NCL Envirotek inc.) 2015 From Shanghai to your shelf: Logistics and supply chain industrial real estate decisions of the 21st century: connecting the dots back to the consumer (SIOR) 2015 Documentation of files (OACIQ) 2015 Certificate of location (OACIQ) 2013 Mandatory continuing training on collaboration 2013 Agency executive, more than an administrator 2012 Training mandatory on new features and modifications to forms - online training 2012 Build-to-Suit Conference 2010 The new Real Estate Brokerage Act 2008 Use of the online land register (OACIQ)
Transaction History
Amnor Environnement (L)..........12480 Place April, Montréal Art série (V).............................3625, 36e Avenue, Pointe-aux-Trembles Bellemont Powell (V)................ 1370 Joliot-Curie, Longueuil Bois d'or (L)............................ 2345 Michelin, Laval Clôture Frontenac (A)............... 3318 – 3322 Jacob-Jordan, Terrebonne Dals lightning (A)......................80 de la Seigneurie, Blainville Du Campro (V).........................1200 boul. Saint-Luc, Saint-Jean-sur-Richelieu Environnement Rive-Nord (A).....12725 rue du Parc, Mirabel Freeman Alimentel (A)...............825 rue Guimond, Longueuil Gabylau (V)..............................1091 Armand Bombardier, Terrebonne Gabylau (A)..............................261 Armand Majeau, St-Roch-Achigan Gourmet Nantel (V)).............................. 2000 Bombardier Ste-Julie Graduor (L))..............................1327-1558-1556 Nationale, Terrebonne Guyjo société (A)).............................. 2297 Antonio Héroux, Terrebonne Guyjo Société (L))..............................2297 Antonio Héroux, Terrebonne JR Levage (A)).............................. 260 Armand Majeau, St-Roch-Achigan Lantex (L))..............................825 Bombardier, Mascouche Location Canvec (L))..............................165 Hymus, Pointe-Claire Omnia (V))..............................80 de la Seigneurie, Blainville Outils Pierre Bergé (L))..............................2050 FX Sabourin, St-Hubert PMS Produits forestier (V))..............................1060 Armand Bombardier, Terrebonne PMS produit forestier (A))..............................140 des Entreprises, Sainte-Anne des Plaines Poly-Bro (V))..............................1060 rue Nationale, Terrebonne Portes Béginnois (V))..............................2295-2297 Antonio-Héroux, Terrebonne Réfrigération Luc Daigle (V)).............................. 2275 de la Province, Longueuil RL Doucet (L))..............................1230 Nationale, Terrebonne SPJ Distribution (L))..............................9575 Ignace, Brossard Summa Metal (A)).............................. 3140 des Entreprises, Terrebonne Technique Auto-Caravan (V))..............................260 Armand Majeau, St-roch-Achigan Transport Alain Giroux (V))..............................115 Goodfellow, Delson Transport Alain Giroux (A))..............................3005 Taschereau, Laprairie Transport Alain Giroux (V))..............................1520 Jean-Lachaine, Ste-Catherine Transport Claude Lachance (L))..............................9800 Ryan, Dorval Transport CRE (A))..............................1091 Armand-Bombardier, Terrebonne Transport Danaso (V))..............................261 Armand Majeau, St-Roch-Achigan Viande Lanaudière (V) )..............................149 montée Allard, St-Jacques de Montcalm Vitrerie Chayer (V))..............................1039-1041 Viger, Terrebonne