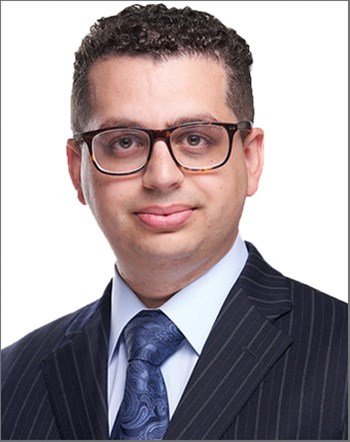 Spécialités
Industrial, Investment
Scope of Experience
«Je m'efforce de toujours maximiser la valeur des investissements de mes clients, en trouvant notamment des valeurs insoupçonnées aux biens immobiliers.»
— Shlomo Benarroch
Courtier spécialisé en immobilier commercial, Shlomo Benarroch possède une connaissance approfondie des valeurs immobilières d'investissement. Fort de ses 10 ans d'expérience du marché montréalais, il veille à tous les aspects entourant ses importantes transactions. Analyse de baux, étude de données, prévisions financières, en passant par l'établissement d'une structure économique avancée, aucun détail ne lui échappe. Immeubles à revenus ou espaces commerciaux d'envergure, quel que soit le type de bâtiments qu'on lui demande de trouver ou de disposer, ses clients peuvent compter sur la même flexibilité, le même engagement et la même remarquable connaissance du terrain.
FLEXIBILITÉ. ENGAGEMENT. CONNAISSANCE DU TERRAIN.
*****************************************************************************************************************************************************
"I strive to always maximize the value of my clients' investments, notably by finding hidden value within real estate goods."
— Shlomo Benarroch
As a real estate broker specialized in commercial real estate, Shlomo Benarroch possesses a deep knowledge of real estate value investments. Confident in his 10 years of experience on the market of Montréal, he closely ensures all aspects surrounding important transactions. Lease analysis, data studies, financial predictions and establishing an advanced economic structure, nothing escapes his attention. Whether it is finding a rental building, a commercial space of a certain scale – regardless of what type of building we ask him to find or dispose of, his clients can count on the same flexibility, engagement and remarkable knowledge of the field.
FLEXIBILITY. ENGAGEMENT. KNOWLEDGE OF THE FIELD.
Parcours professionnel
Chez NAI Terramont Commercial depuis 2008 à titre d'expert en valeurs immobilières d'investissement, Shlomo Benarroch a réussi à asseoir sa crédibilité sur des résultats probants, alors qu'on lui doit 150 transactions, totalisant plus de 75 millions de dollars et 1,2 million de pi2.
Formé à l'école Sy Syms – école de gestion de l'université Yeshiva, à New York, Shlomo a d'abord œuvré dans le secteur privé, concluant d'importantes transactions, notamment avec la U.S. Bank et la MBNA.
Fort de ses précieux acquis dans l'univers financier, il n'est pas étonnant qu'il se soit rapidement intéressé aux placements et à la vente dans le secteur industriel, puis qu'il ait misé sur une carrière en immobilier commercial.
En 2008, il obtient sa licence de courtier du Collège de l'immobilier du Québec et parallèlement étudie de performants outils utiles à la profession, dont Argus Valuation (logiciel de valeur actualisée des flux de trésorerie qu'il maîtrise depuis 10 ans) qui permet d'offrir analyses détaillées du marché, rapports d'évaluation et autres études d'emplacement pour les meilleurs investissements à long terme.
Montréalais d'origine, Shlomo a habité à New York où il a appris à faire les choses différemment. En effet, d'évoluer dans une métropole aussi effervescente lui a permis d'aiguiser ses qualités de fin négociateur et de parfaire ses solides aptitudes d'analyste.
Lorsqu'il n'est pas à l'affût des dernières tendances en valeurs immobilières d'investissement, Shlomo s'investit bénévolement dans sa communauté. Président de sa synagogue, il s'implique dans différentes causes philanthropiques.
****************************************************************************************************************************
As an expert in real estate value investments since 2008 at NAI Terramont Commercial, Shlomo Benarroch succeeded in establishing his credibility on probing results; we owe him 150 transactions, which brings his total to over 75 million dollars and 1.2 million square feet.
Having studied at the Sy Syms school– a management school within Yeshiva University in New York, Shlomo has first worked in the private sector, concluding important transactions, notably with the U.S. Bank and the MBNA. Confident in his precious achievements in the financial sphere, it is not surprising that he has quickly developed an interest in investments and sales in the industrial sector, since he has focused his efforts on a career in commercial real estate.
In 2008, he obtained his real estate broker license at the Collège de l'immobilier du Québec and simultaneously studied performance tools that would be useful in his profession, such as Argus Valuation (a present value software overseeing treasury fluxes which he mastered for over 10 years) which allows him to offer detailed market analysis, evaluation reports and other location studies for the best long-term investments. Although he is from Montréal, Shlomo has lived in New York, where he has learned to do things differently. Indeed, evolving in a metropolis as effervescent has allowed him to sharpen his qualities as a fine negotiator and to perfect his solid analysis skills. When he is not looking out for the latest trends in real estate value investment, Shlomo invests his time in volunteer work within his community. As president of his synagogue, he implicates himself in different philanthropic causes.
Education
Shlomo a étudié la comptabilité à la Sy Syms School of Business située à New York.
Shlomo a obtenu son permis de courtier du Collège de l'immobilier du Québec.
***************************************************************************************************
Shlomo has studied accounting at the Sy Syms School of Business located in New York.
Shlomo obtained his real estate broker license at the Collège de l'immobilier du Québec.
Associations Professionnelles et Désignations
Membre de l'Organisme d'autoréglementation du courtage immobilier du Québec (OACIQ)
Historique des transactions
Sale Transactions ~~~~~~~~~~~~~~~~~~
Sale of an industrial investment property to Olymbec on behalf of Blackstone REIT – 320,000 square feet at $9,500,000
Sale of an industrial investment property to Le Groupe BMR – 160,000 square feet at $7,500,000
Build to suite industrial HACCP project for Novotaste - 30,000 square feet at $4,500,000
Sale of a HACCP to Fontaine Sante - 39,000 square feet at $3,800,000
Sale of an office investment property to GIE - 26,000 square feet $2,950,000
Sale of a large rental car location on behalf of the Hertz Corporation - 10,428 square feet at $2,850,000
Sale of an industrial warehouse for GE Capital to Intermark Transport Inc. - 30,000 square feet at $2,875,000
Sale of an industrial property to Le Groupe SM – 48,230 square feet at $1,975,000
Sale of an industrial property to Remorque Centre-Ville - 67,000 square feet at $1,900,000
Sale of an office investment property on behalf of Blackstone REIT - 28,000 square feet at $1,750,000
Sale of an industrial property on behalf of the BDC to Discount rend a car - 25,500 square feet at $867,000
Lease Transactions ~~~~~~~~~~~~~~~~~~
Lease of an industrial warehouse to Artitalia Group – 72,000 square feet
Lease of an industrial warehouse for Bentall to MissFresh – 33,000 square feet
Lease of an industrial warehouse for Firm Capital to Fleur Experts – 32,000 square feet
Lease of an industrial warehouse for Bentall to Karo Express – 28,000 square feet
Lease of an industrial warehouse for Dalfen Americorp to Hulcher Services – 16,000 square feet
Lease of an industrial warehouse for Bentall to Insituform Technology – 15,000 square feet
Lease of office space to Interactive Intelligence - 8,000 square feet
Lease of retail space to Park Avenue BMW - 7,897 square feet
Lease of office space to Anton Paar in Liberty Park- 7,156 square feet